Does Accelis Weight Loss & Diet Pill Work?
Reference Fat Burner (RFB) has determined that Iovate Health Sciences International (Iovate) is one of the top marketers of this "easy losing weight" supplement called Accelis.
According to its makers, Accelis is a new and revolutionary stimulant-free diet pill, which can help your body to lose weight, on average 10.65 pounds, in a fast and harmless way (not the same happens to everyone). If that's true, it can be considered as one of the best fat burners.
However, the matter that interests us is whether the makers of this weight-loss supplement have made any scientific tests to back up their claims.
Of course, all advertisements present the positive side of the product. Advertisements and pubs of this pill is not different! However, if it is true that there was a clinical study, why do the producers talk only about its positive outcome?
Have they published the real results of the study anywhere? Actually, I have spent some time making a research on Accelis's main ingredient. Indeed, the results were intriguing but they were not revolutionary as they claim.
The effectiveness of this product depends on its ingredients. Do they cause side effects? So, let's review the main ingredients of this diet supplement.
Ingredients in Accelis:
It is important to say that a few ingredients that Accelis contains could be really effective if taken at correct dosage. However, at the dosages that they are included in this weight loss pill, I do not think that they will give any results.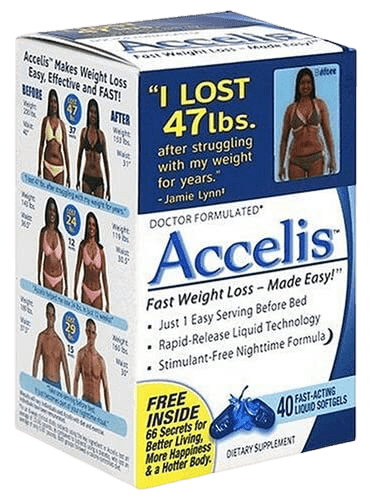 Lagerstroemia speciosa l. extract leaf standardized for 3% corosolic acid: is a blood sugar regulator. This property has been validated by many experiences on diabetic animals or humans.
Caffeine-free green tea extract (as Camellia sinensis): is one of the most popular herbals all over the world. Millions of text and web pages have been written about green tea. Many people all over the world are looking for it because of its fat burner properties. In fact, green tea can prevent cancer, boost immunity, lower triglycerides & cholesterol and promote weight loss.
Unfortunately, when decaffeinated, green tea loss its weight loss properties. If you are looking for a thermogenic supplement, it's best to take caffeinated teas. So, we really don't understand the role of this ingredient in this diet pill. A full review of green tea extract is available here.
Caffeine-free Oolong Tea Extract: that falls between a green and a black tea. The same notice than above is valuable. Why should the maker use the caffeine free one?
Caffeine-free White Tea Extract: when not decaffeinated, it contains considerably less caffeine (15mg per serving) than green tea (20mg per serving). I will let you guess the value of caffeine free white tea as a diet pill.
Chamomile extract (as Matricaria recutita): its dosage is 400 to 1600 mg daily in divided doses. It is used for insomnia, sleep disorders, nausea and vomiting. It helps to a better health in the digestive system.
Passionflower extract (as Passiflora incarnata): dosage is 100 to 200 mg 2-3 times a day. It helps people with sleep disorder, insomnia, stress and anxiety.
Soy phospholipids: normal dosage is 10 to 300 mg daily. It is useful for people with menopause, premenstrual syndrome and osteoporosis. It shows promise for angina, cardiovascular disease and hyperlipemia.
Bottom line:
Now that you have become familiar with the main ingredients, probably you will agree with me that its effectiveness or how this proprietary blend works is doubtful.
The teas ingredients are caffeine free (useless for weight loss) while passionflower and chamomile extract have no weight loss properties. If you are interested in this subject, you can find some reviews on the product online and especially independent reviews in the forums. But there are no clinically proven results available!
But let's suppose Accelis ingredients were effective for weight loss, what effect could 30 g of dietary blend have on weight gain and obesity? Nothing.
It's a fact that Accelis diet product is sold at one of the cheapest and best prices on the diet pills market. This product costs about 19 bucks for a twenty days period. So, it's less than one dollar a day! It's also true that this supplement shows no side effects. But does it really worth spending your money when you have serious doubt on its effectiveness?
If yes, where can you buy Accelis? Share your thoughts with us!